HAVE YOU MODIFIED A VEHICLE?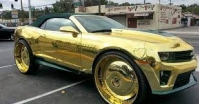 Do You Have a Modified Vehicle?
A key question on the standard Ontario auto insurance application asks: Has the vehicle been modified or customized in any way? Why is this important?
After market modifications you have made, or plan to make that your insurer is not made aware of can negatively impact your claim recovery. Certain modifications can even result in a claim being invalid as it could affect the original manufacturer's mechanical design.
These may include, but are not limited to: engine modifications; paint changes; tinted windows; lowered suspension; modified exhaust system; non factory installed wheels, tires, and electronic accessories and equipment.
If you plan to make modifications in order to improve or alter performance, appearance, or increase value, contact your insurance provider to make sure you are properly insured. Be prepared to pay extra premium for customized work.