Do You Tow a Trailer?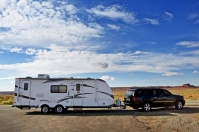 In Ontario, there are 12 different license classes. Each one qualifies you to drive a different type of vehicle. The class of license you have must match the type of vehicle you are driving. A "G" license is the most common in Ontario, and allows you to drive any car, van or small truck, or combination of vehicle and towed vehicle up to 11,000 kg, provided the vehicle being towed is not over 4,600 kg.
For people who tow large camper trailers, travel trailers, or 5th Wheel trailers, it is possible to exceed the weight restrictions of a G license. Sales of these types of trailers has increased in the current pandemic times. If your trailer exceeds 4,600 kg, or if the total weight of your tow vehicle and trailer exceeds 11,000 kg, you will be in violation of the G class rules and in effect, will be driving without a license.
Without a valid license, your insurance may be null and void in the event of an accident or claim.
If your tow a vehicle and trailer combination exceeds the weight limit, you should obtain an "A" class license.